The Tiffany appetiser tray is elegant and modern, simple and unique. Each brushstroke stands out for its shape and intensity. A fresh touch of style on the table.
100% PURE MADE IN ITALY
On request it is possible to customise the back of the product with lettering and logos
Description
Ideal for serving appetizers or snacks, for a lunch or aperitif at home or outdoors. Divided into 3 sections – one central and two lateral ones – it allows for mixing different dishes in a single serving or accompanying them with sauces. The perfect appetiser tray to welcome guests with style and personality.
Product maintenance guide
Dishwasher-safe with a regular programme of about 65-70°C sufficient for cleaning. A higher temperature is not recommended.
Be careful not to bump them together when putting them in the dishwasher and avoid friction when washing by separating them well from each other.
NO oven, NO microwave.
Handle with care, our handmade ceramics are softer than industrial porcelain.
Non-ceramic accessories such as wooden parts, metal, cork should be washed separately by hand.
Handcraft
All our products are made and painted by hand. This is why small differences in colour, size or slight imperfections make each piece unique and unmistakable.
White ceramic is a naturally porous material that absorbs moisture. The resulting formation of halos does not affect its use.
Technical data
3.5 cm
34.5 cm
300 gr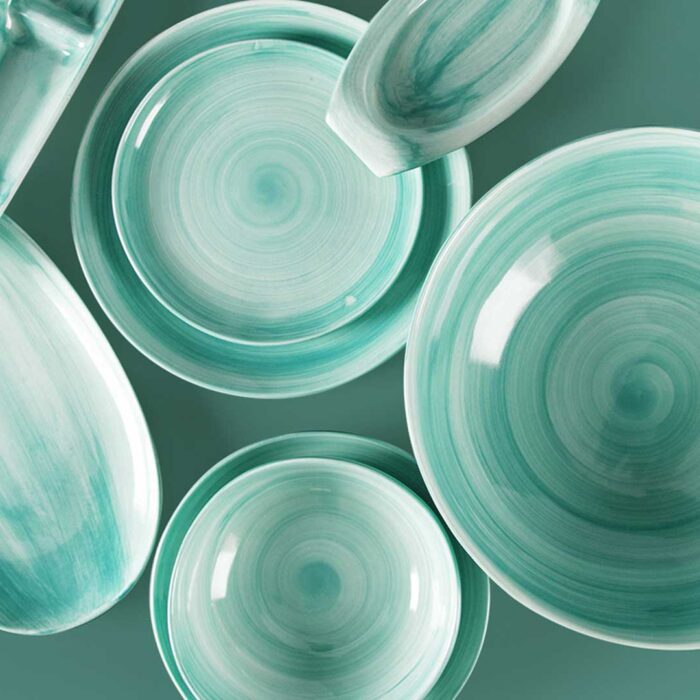 Discover the collection:
Tiffany
Related products